Garmin SkyStairs – Zubin Potok
14. maj 2016.
Garmin Sky Stairs, trka na preko 700 stepenika u Zubinom Potoku, predstavlja jedan od najvećih izazova u ovoj godini. Trka se neće bodovati za Skyrunning ligu 2016, ali će zato biti vrlo originalan i izazovan takmičarski događaj, uključujući i sjajne nagrade za najbrže i najizdržljivije.
Posle prve runde gde će svi trčati na hronometar, najbržih 16 takmičara idu dalje (kod žena prvih 8) i onda se ide na nokaut sistem (8 na 8, 4 na 4, 2 na 2 i 1 na 1). Dakle ,finalisti će imati pet odnosno četiri runde trčanja uz stepenice.
Trka startuje u subotu 14. maja u 11h i radiće se runde do polufinala u obe kategorije. Nakon toga biće organizovana revijalna dečija trka a zatim se ide na pauzu za odmor. U večernjem terminu koji počinje u 20h očekuje vas atraktivna noćna završnica sa polufinalnim i finalnim borbama u muškoj i ženskoj konkurenciji. Pobednica može biti samo jedna, a i pobednik.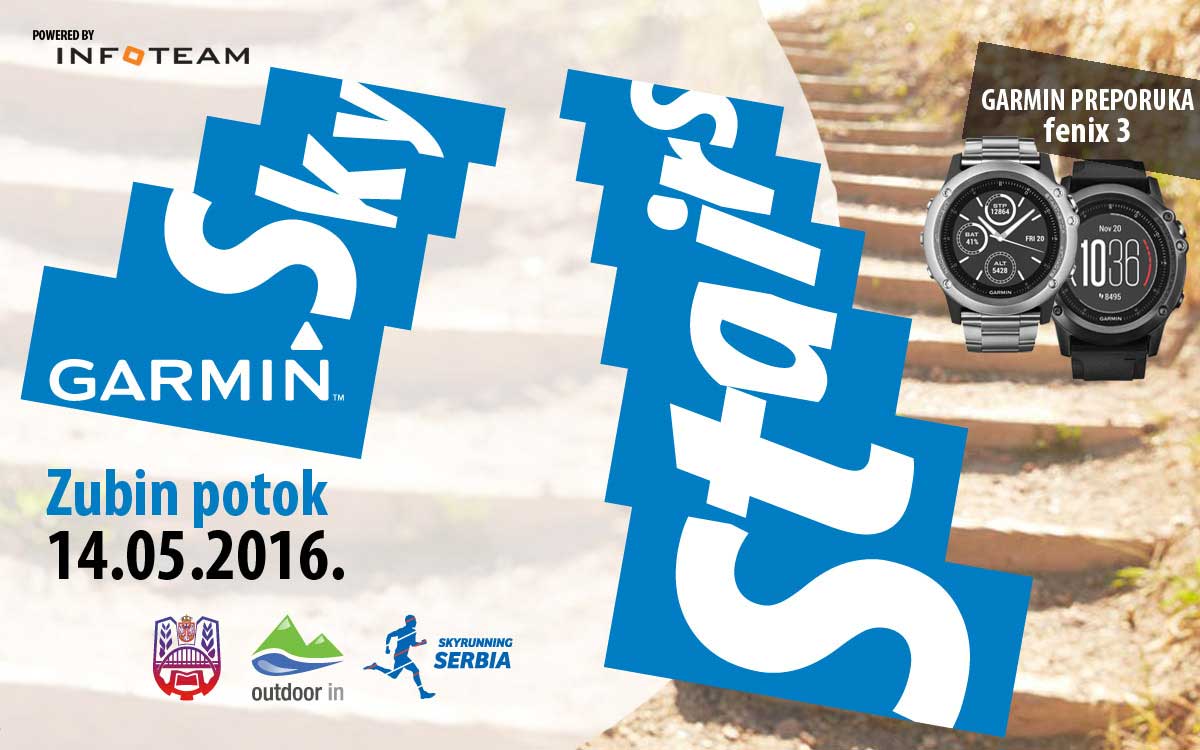 U prilogu se nalazi mapa Zubinog Potoka gde su prikazane sve bitne lokacije vezane za ovaj događaj. Pod brojem 1 ilustrovane su stepenice gde će se održati takmičenje. Učesnici će biti smešteni u Studentskom domu (na mapi obeležen brojem 2) ili u lokalnim hotelima (Hotel Dva Lava, Hotel Aleksandrija i Hotel Zapis). Cene smeštaja su iskazane u paketima koji su vam dati u prilogu. Postoji i mogućnost besplatnog spavanja u sportsko-rekreativnom centru (na mapi obeležen brojem 13), s tim da morate da ponesete vreće i podloške.
U nedelju 15. maja predviđena je Outdoor avantura u Ibarskom Kolašinu gde smo vam pripremili fantastične pakete za penjanje Via Ferrate i planinarenje Mokrom gorom. Toplo preporučujemo ove aktivnosti, nećete ostati ravnodušni kada su u pitanju prirodne lepote i atraktivnost turističkih proizvoda u ovom kraju.
Autobus kreće sa parkinga ispred Kombank arene u petak 13. maja u 16h. Prvih 50 učesnika koji kompletiraju prijave stiču mogućnost za besplatan prevoz. S obzirom na veliki broj nenajavljenih odustajanja i odustajanja od organizovanog prevoza u poslednjem trenutku, od ove trke će se od svih učesnika koji steknu mogućnost besplatnog prevoza mailom tražiti i da do 10 dana pred polazak potvrde da će ga zaista i koristiti. Ukoliko do roka od 10 dana pred polazak ne potvrde svoje mesto u autobusu, neće moći da koriste organizovani prevoz. Otkazivanje prava na prevoz je moguće samo do 10 dana pred polazak, i to isključivo preko mail-a skyrunning.serbia@gmail.com. Ukoliko učesnik najavi da će prevoz koristiti, a pritom ga ne iskoristi, bez obaveštenja poslatog na mail skyrunning.serbia@gmail.com do 10 dana pred polazak, učesnik gubi pravo na organizovani prevoz prvu narednu trku u organizaciji SkyRunning Serbia za koju se prijavi. To ne podrazumeva slanje poruka ili poziva određenih članova našeg tima, već isključivo na mail asocijacije.
Svi učesnici koji ostvare pravo na besplatan prevoz će biti o tome obavešteni blagovremeno. Povratak je zakazan u nedelju 15. maja u 16:30h ispred sportsko-rekreativnog centra. Vođa puta je kao i uvek naša Dragana (0642514033).
Na trci mogu učestvovati svi stariji od 13 godina (za mladje od 18 potrebno je na dan trke tokom registracije dostaviti saglasnost roditelja overenu u sudu). Prijave se otvaraju na portalu trka.rs u petak 11.03.2016. u 11h a zatvaraju u 03.05.2016. u 16h.
Više info o Zubinom Potoku i okolini: www.ibarski-kolasin.org i na Facebook stranici Outdoor In.
Pokrovitelji: www.infoteam.rs, www.garmin.rs, opština Zubin potok & Outdoor In
Paket planinarenje
Paket Via Ferrata
Zubin Potok hotels and restaurants